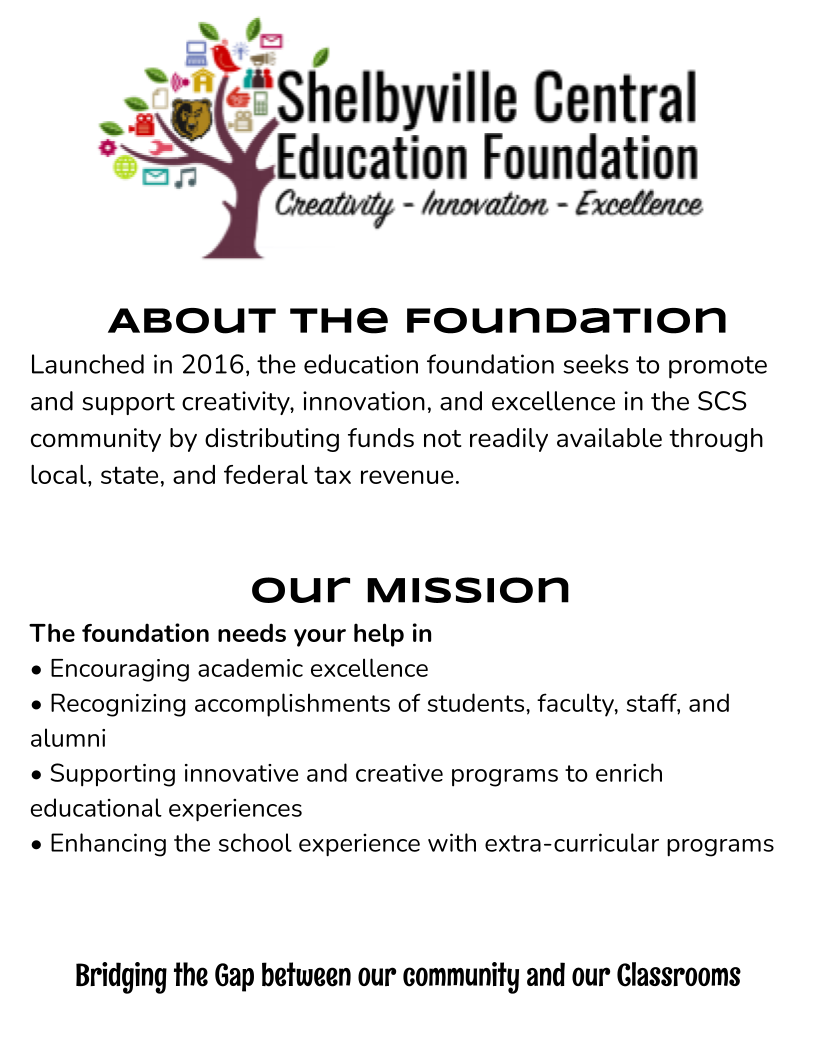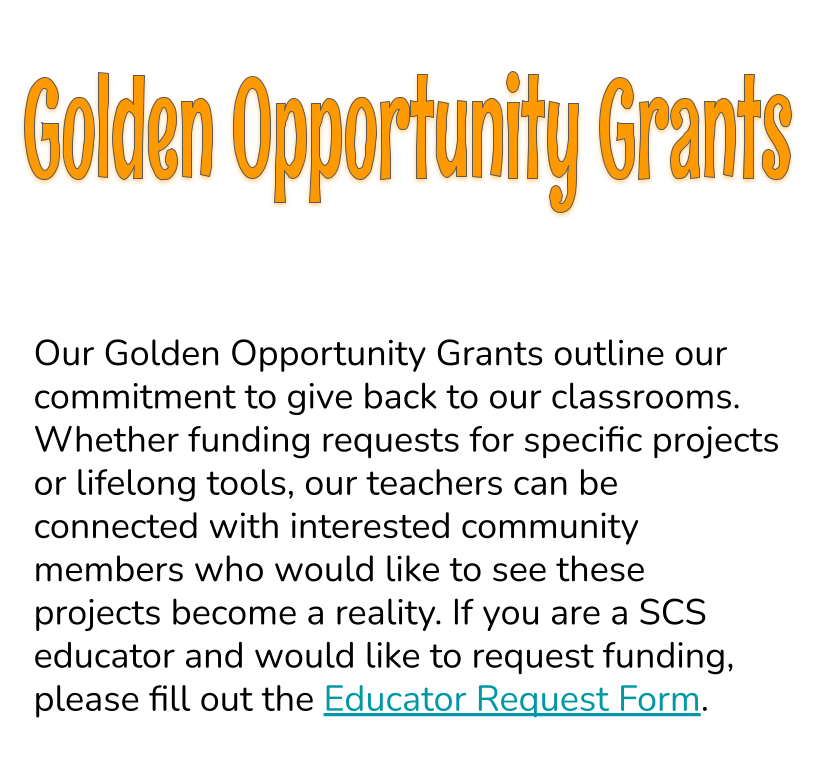 Grant Cycles and Deadlines
Grants will be awarded in August and January of each year.

The deadline to apply for the August Grant Cycle is July 1st.

The deadline to apply for the January Grant Cycle is November 1st.
Award Amounts
Grants must be less than $1,000 in order to be considered for funding.
Introducing Shelbyville Central Education Foundation Golden Opportunities Grants - Empowering the Future!
Are you passionate about education and committed to bringing positive change to schools and educational programs? Look no further! Shelbyville Central Education Foundation Grants are now seeking funding partners to support educational initiatives and empower the next generation.
We proudly invite you to join hands with us in making a significant impact on education. Our grants are specifically designed to provide financial assistance to education foundations and institutions in need. By supporting these worthy causes, you become an integral part of shaping bright minds and fostering a love for lifelong learning.
Why choose Education Foundation Grants?
Empower Students: Your contribution makes a direct impact on students' lives, providing them with access to quality education, resources, and opportunities they deserve.

Enhancing Teaching Methods: Our grants support innovative teaching techniques, professional development programs, and digital learning initiatives that revolutionize classrooms and enrich educators' skills.

Promote Equity and Inclusion: We are committed to bridging the educational divide, ensuring that every student, regardless of their background, has an equal chance to thrive and succeed.

Community Engagement: Your partnership with us extends beyond the classroom, fostering community involvement and collaboration to create a vibrant learning ecosystem.

Lasting Results: We believe in the power of sustainable change. By investing in education, you lay the foundation for a brighter future, benefiting generations to come.
Join us today and become a catalyst for change. When you support Shelbyville Central Education Foundation Grants, you invest in the potential of countless students and educators, transforming dreams into reality.
Visit Golden Opportunities Grants below or contact us to learn more about how you can contribute to Shelbyville Central Education Foundation Grants and make a lasting impact on education. Together, let's unlock the doors of knowledge and opportunity!
Remember, education is the key to a brighter future - and you hold that key. Act now and be a part of the educational revolution!
Go to our Donors page and include the Golden Opportunity you would like to grant by contacting SCEF at 317-392-2505 to make your donation. Thank you for your ongoing support of our Shelbyville Central classrooms!