Painting For Education Event September 21, 2023 $40 per person Sign up here:
https://forms.gle/n2oBQAWim29gtEiP8
Contact Andy Snow at
aasnow@shelbycs.org
or 317-398-3185 The Shelbyville Central Education Foundation would like to express our heartfelt gratitude to our PLATINUM SPONSORS for their unwavering support of this event: Ramsey Commercial Roofing Nuthak Insurance Weber for Mayor Cagneys Pizza King Ferguson for Mayor Echo Effect Arts Campus Join us on September 21 for an awe-inspiring celebration of art, creativity, and community spirit. Immerse yourself in a world of captivating paintings that will redefine the way you perceive art. With the generous support of Ramsey Commercial Roofing, Nuthak Insurance, Weber for Mayor, Cagneys Pizza King, Ferguson for Mayor, Echo Effect Arts Campus, and Shelbyville Central Schools Education Foundation, this extraordinary event promises to be unforgettable. Don't miss this unique opportunity to create art under the tutelage of the finest artist in Shelby County. Be inspired by the mesmerizing strokes, vivid colors, and thought-provoking expressions. Whether you are an art aficionado, a passionate supporter of the local community, or simply someone who appreciates beauty and creativity, this event is for you. Save the date: September 21. Together, let's celebrate the power of art and extend our gratitude to Ramsey Commercial Roofing, Nuthak Insurance, Weber for Mayor, Cagneys Pizza King, Ferguson for Mayor, Echo Effect Arts Campus, and Shelbyville Central Schools Education Foundation for their invaluable support. Come, be a part of this remarkable experience, and let the magic of The Painting for Education event on September 21 mesmerize you. See you there!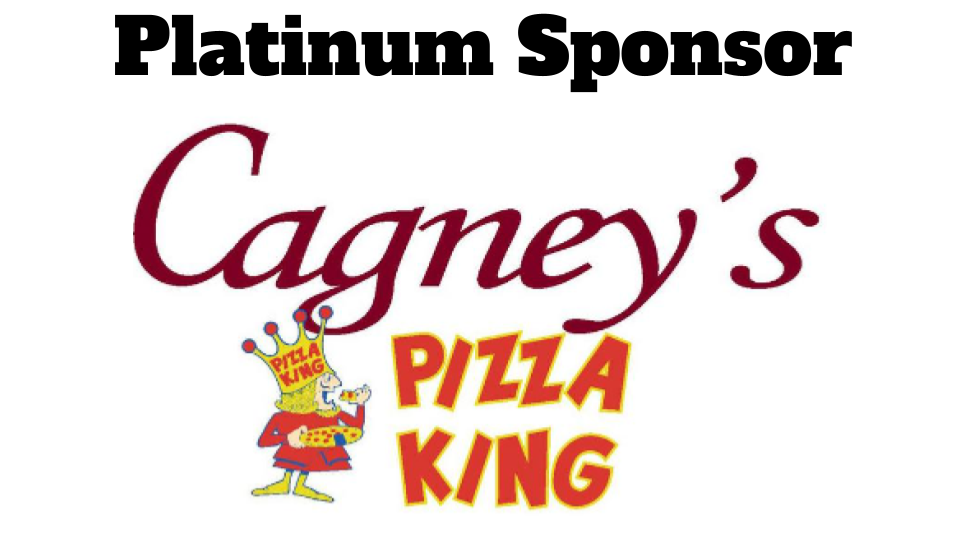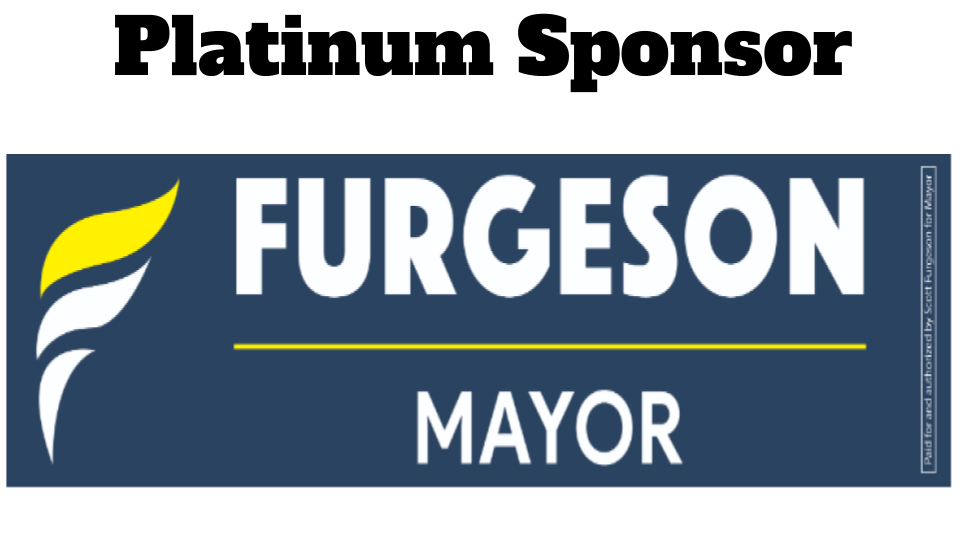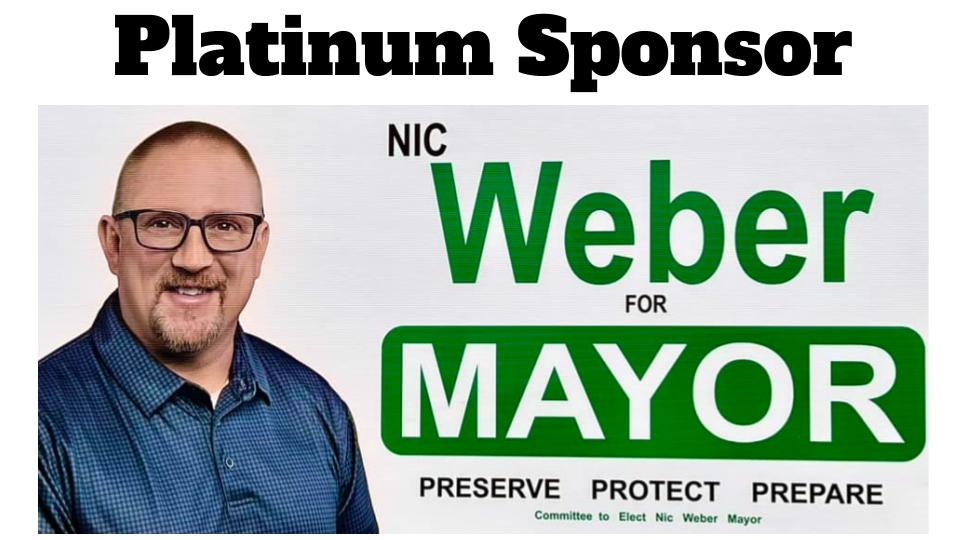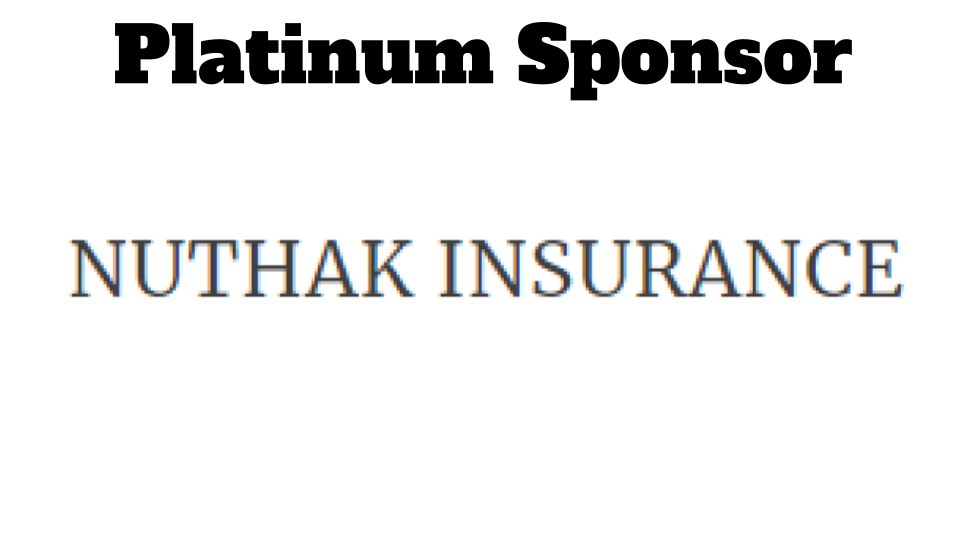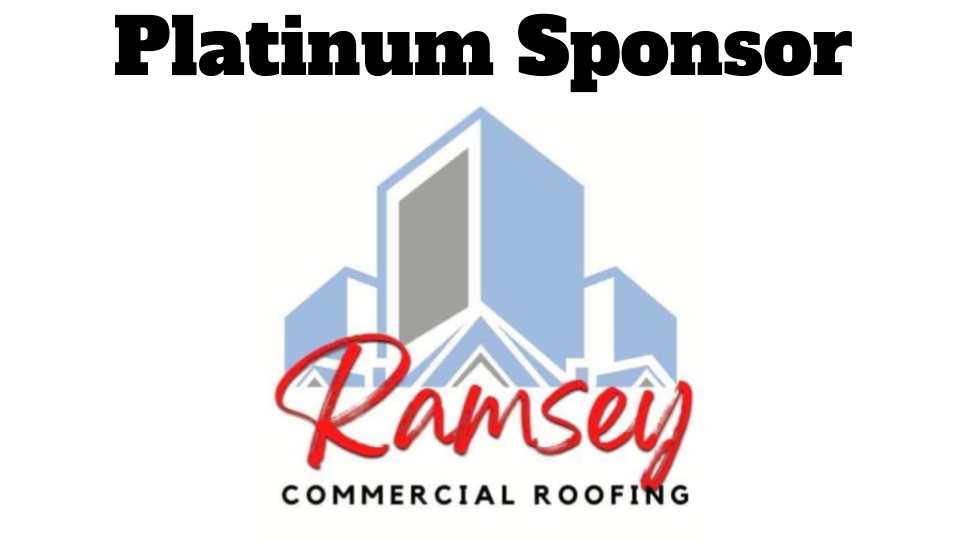 Come, and be a part of "Painting for Education," a special event sponsored by Ramsey Commercial Roofing, Echo Effect Arts Campus, Nuthak Insurance, and the Shelbyville Central Education Foundation. On September 21, 2023, immerse yourself in a captivating evening where art and philanthropy combine in support of education. Located at Echo Effect Arts Campus, we guarantee an experience that will inspire and engage. This unique event aims to raise funds for educational programs and resources that benefit students in the Shelbyville Central School District. By attending "Painting for Education," you contribute to the betterment of classrooms, libraries, and extracurricular activities. Starting at 5 p.m., the doors will open to a warm and welcoming atmosphere where you can network with fellow art enthusiasts and community members. As you mingle, indulge in a selection of delectable refreshments carefully curated for your enjoyment. At 6 p.m., the main event begins as we unleash our creativity onto the canvas with the guidance of the talented local artist Dawn Adams. No prior painting experience is necessary; just bring your enthusiasm and willingness to try something new! Under the expert tutelage of our esteemed artist, you'll create your own masterpiece to take home as a memento of the evening. Harness your inner artist and watch as your artistic abilities flourish with every brushstroke. Not only will you leave with a newfound appreciation for the arts, but also the knowledge that your participation directly supports the future of education. By attending "Painting for Education," you help provide invaluable resources and opportunities for students in our community. Secure your spot today and reserve your ticket for this incredible event. Tickets can be purchased through our website,
https://forms.gle/xhatycCEAzAKHtbn9
, or by contacting Andrew Snow,
aasnow@shelbycs.org
, 317-398-3185. Don't miss out on this exclusive opportunity! Join us on September 21, 2023, and make a difference through art—Painting for Education awaits!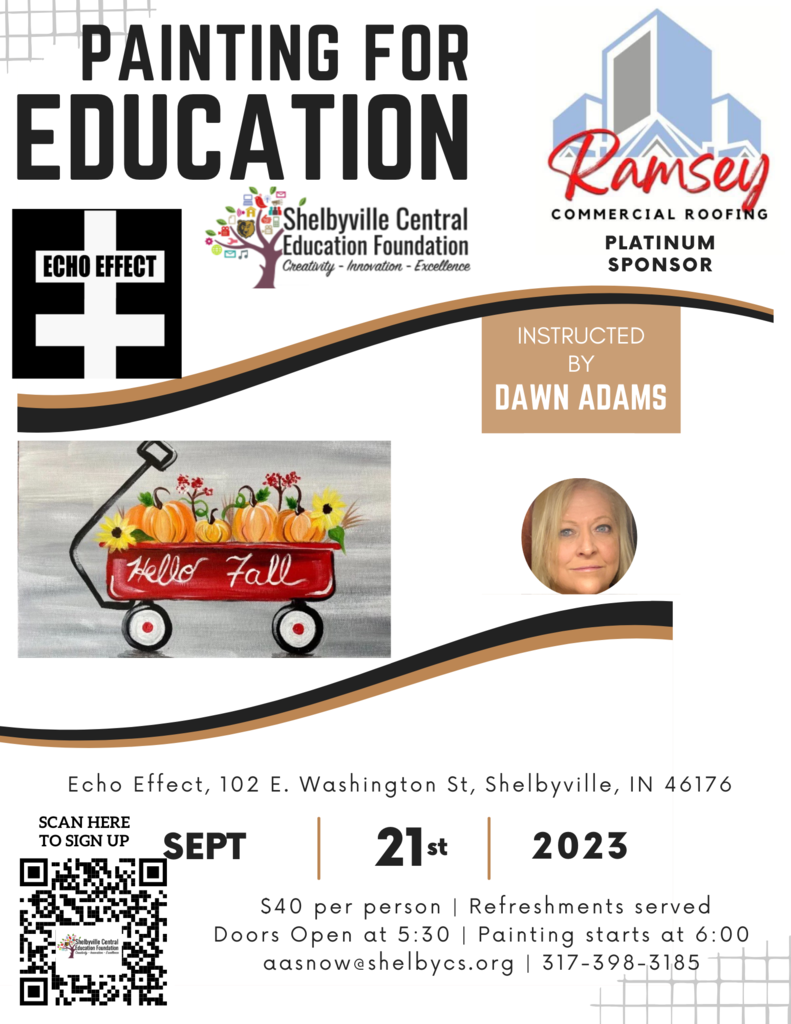 On Monday, August 7th, the Shelbyville Central Education Foundation was thrilled to award grants totaling over $4,500 to Shelbyville Central Schools classrooms. Checks were presented by Foundation board members Matt Haehl and Cody Montgomery. The announcement was made during the back-to-school meeting, where the foundation took the opportunity to recognize and support the hard work and dedication demonstrated by the outstanding teachers at Shelbyville Central Schools. Their unwavering commitment to providing quality education played a crucial role in making these grants possible. These grants will have a significant impact on the education experience of our students. They will provide valuable resources, innovative tools, and enhanced learning opportunities that will enrich their educational journey. But the excitement doesn't stop there! You too can contribute to this remarkable cause and make a difference in the lives of our students. To learn more about the Education Foundation and the various ways in which you can support Shelbyville Central Schools, reach out to Andy Snow at 317-398-3185 or
aasnow@shelbycs.org
. By coming together as a community, we can build a brighter future for our students and help them thrive. Let's join forces and create a legacy of educational excellence in Shelbyville!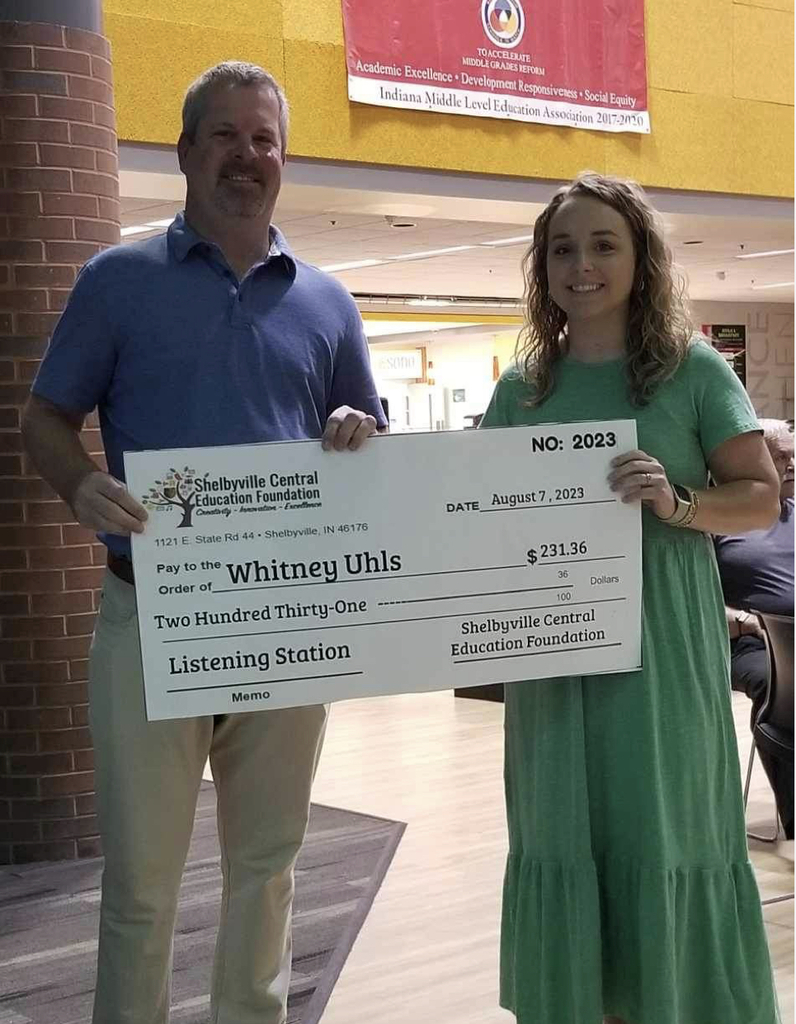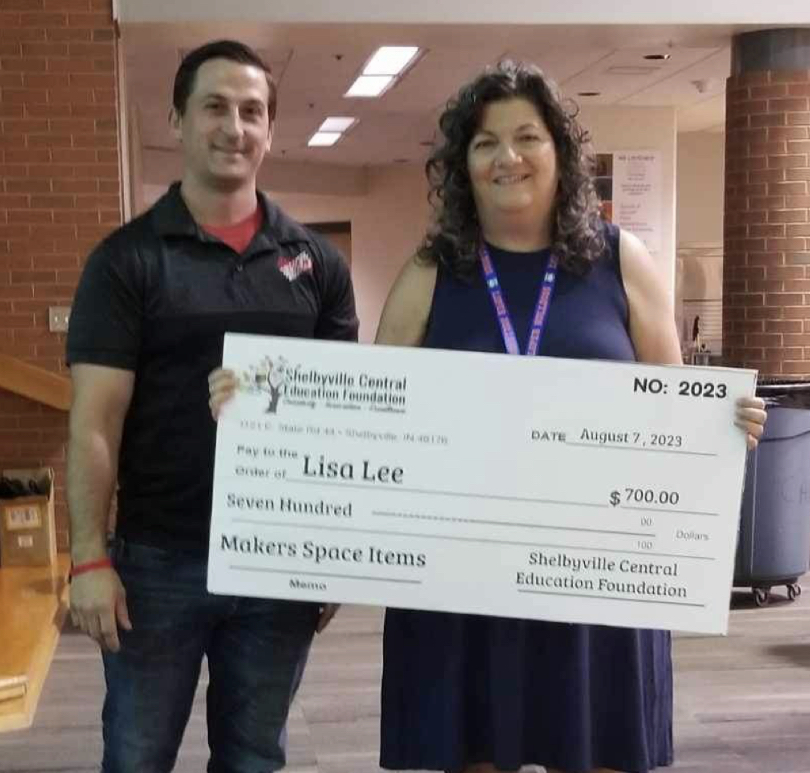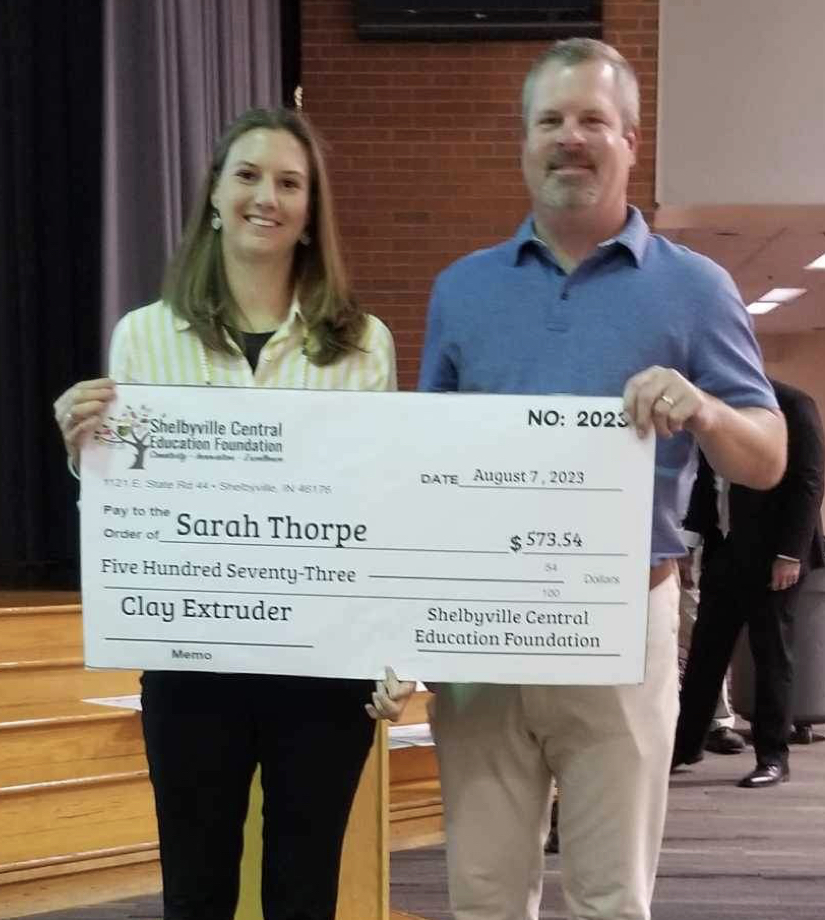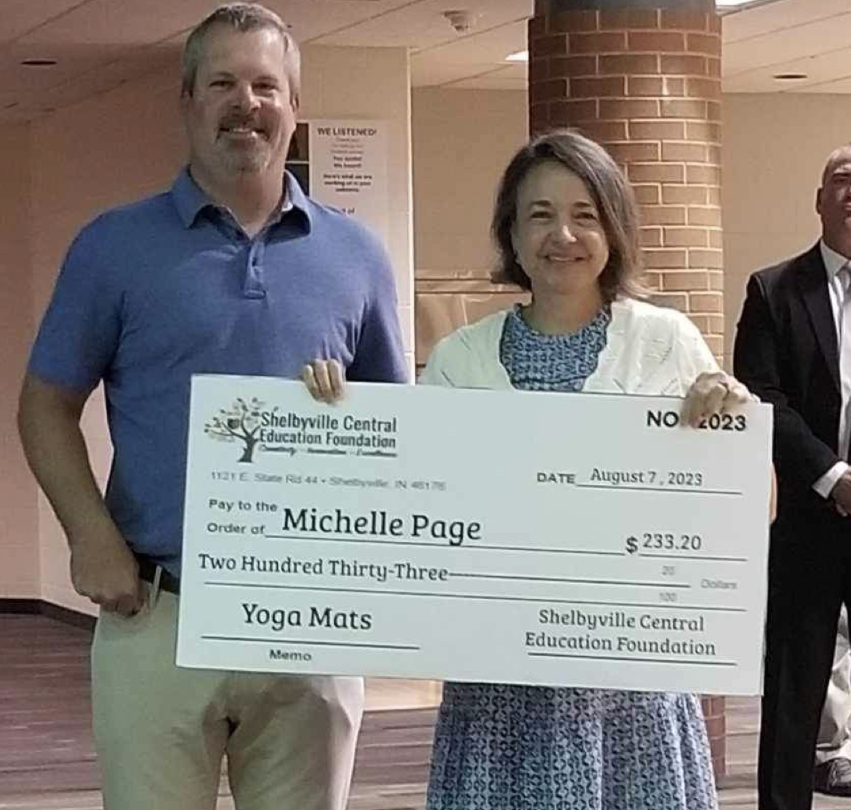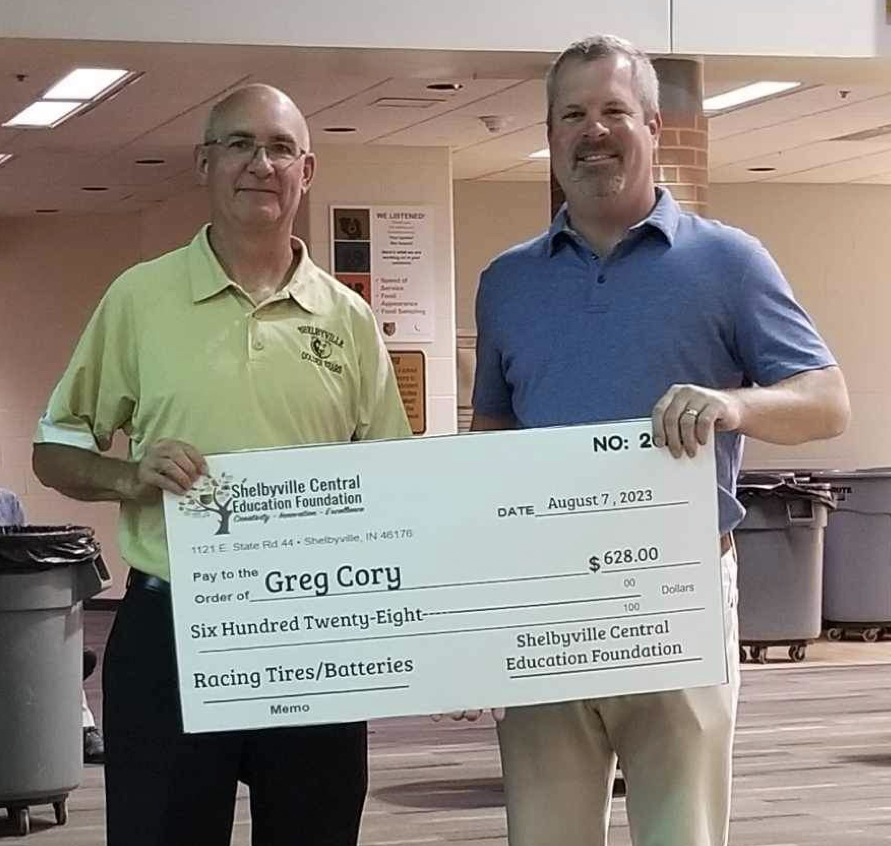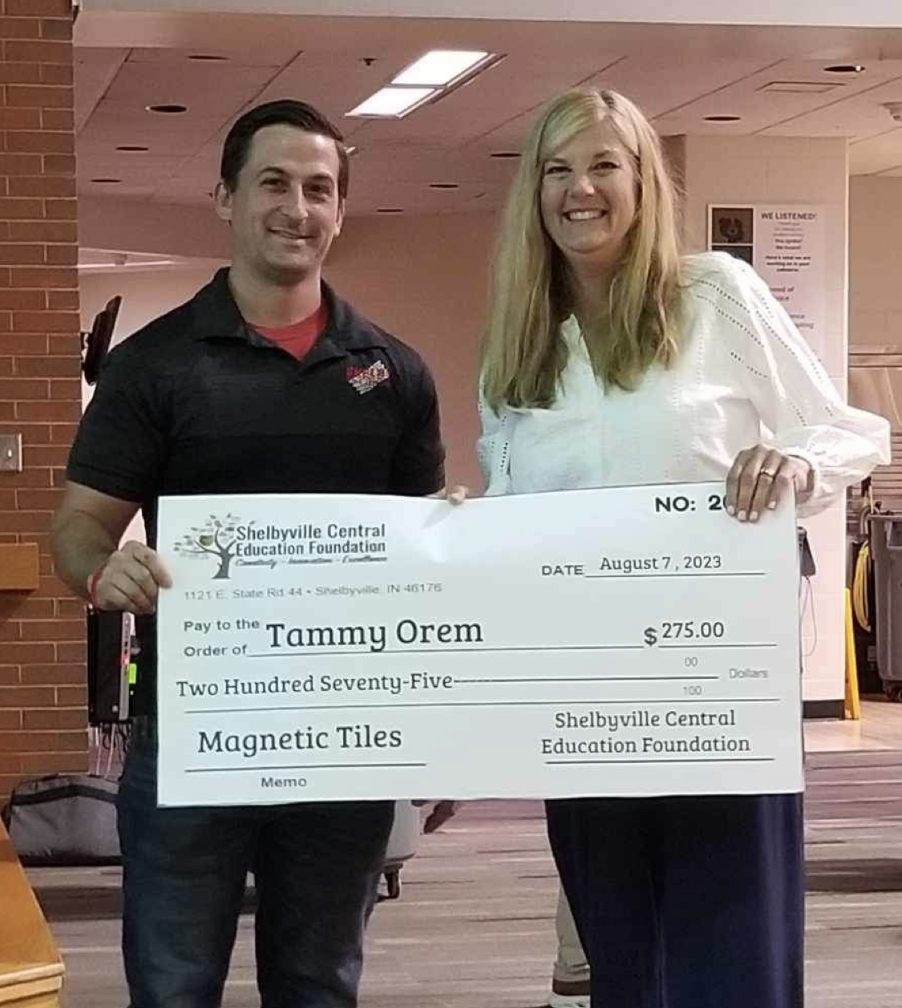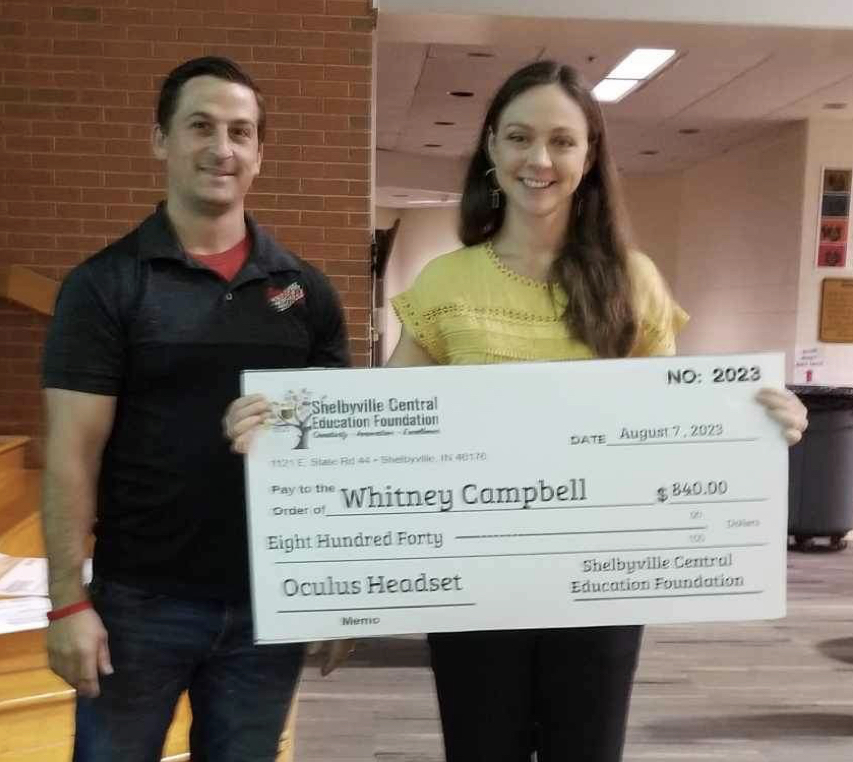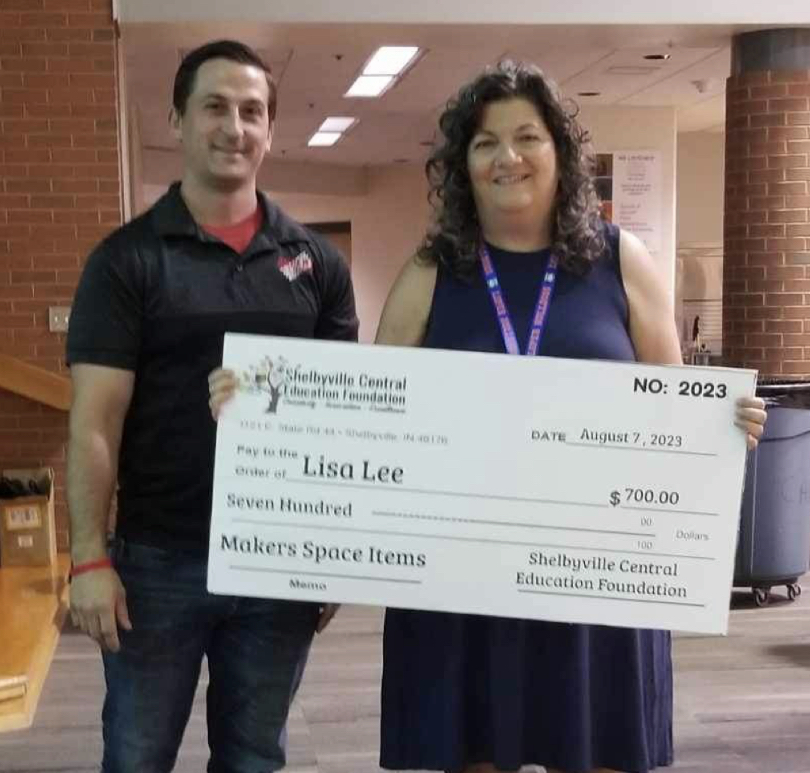 Attention All SCS Teachers, We are excited to inform you that the Shelbyville Central Education Foundation now has grants available for our knowledgeable and amazing teachers! These grants will provide an opportunity for you to bring new ideas into the classroom and enhance the learning experience of our students. If you have innovative ideas for projects, programs, or materials that can improve the quality of education in our district, we encourage you to apply for these grants. The application process is short and easy, and we want to hear from each and every one of you. Don't hesitate to take advantage of this opportunity to help your students succeed. Apply for a grant today and let us help you make a difference in their lives. Click here to apply for a grant today .
https://forms.gle/gY37ZhssEURDsT3R9
Best regards, Shelbyville Central Education Foundation Board of Directors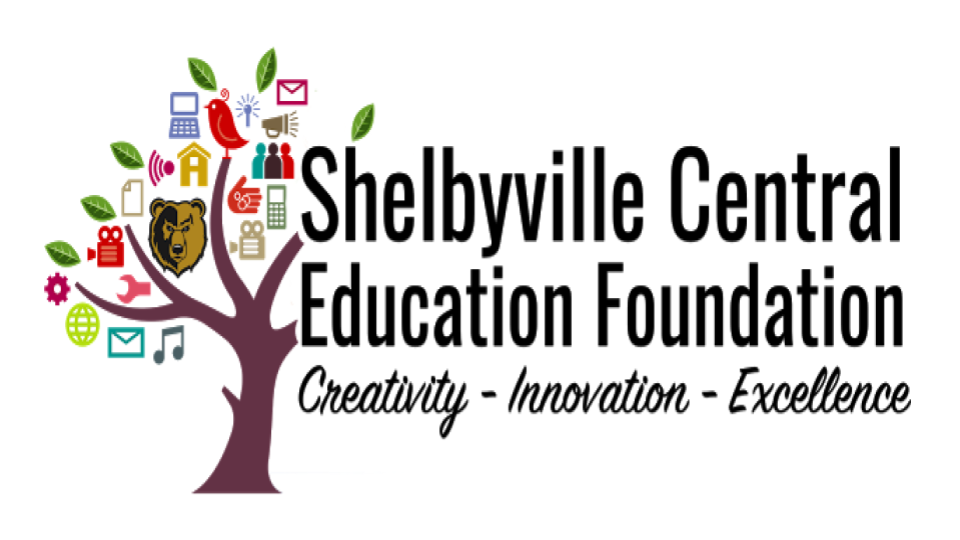 The Shelbyville Central Education Foundation will be selling iPads again this year. Click here to reserve your iPads:
https://forms.gle/WQQ7maDsDZjbZb128
Sales will be made on a first come first serve basis based on the time stamp from the Google Form. The only iPads available now are the iPad Air 2, 16GB - $50.00 each. You may reserve as many iPads as you wish at this time; however, a limited quantity is still available. Pick up will be on April 7th at Coulston Elementary - 121 N. Knightstown Rd, Shelbyville IN - from 9:00 am until 12:00 noon and 3:00 until 5:00 pm. Please note that they will be sold in as-is condition. There will be no case, charging cord, or block provided. We ask that the iPad be checked prior to leaving school. This will be a CASH-only sale. Click here to reserve your iPads:
https://forms.gle/WQQ7maDsDZjbZb128

FREE COVID home test kits (4 tests per box) will be given to families whose children attend Shelbyville Central Schools. Date: May 31st Time: 3:00pm-6:00pm Location: Loper Elementary- drive up and pick up One kit per household. Parent/Guardian name and student name required **The test kits will be available while supplies last. If test kits remain after May 31st, an additional date/time will be scheduled. **

Two Hour Delay, Thursday May 19, 2022 Due to the fog, Shelbyville Central Schools will be operating on a two hour delay.

Shelbyville Central Schools Elementary Teacher Job Fair. Two Dates: Tuesday, May 10, 4:30 pm - 6:30 pm. and Saturday, May 14, 9:00 am to 11:00 am . 1121 E; State Rd 44 Shelbyville, IN 46176 Please bring a copy of your resume and any information you would like to share.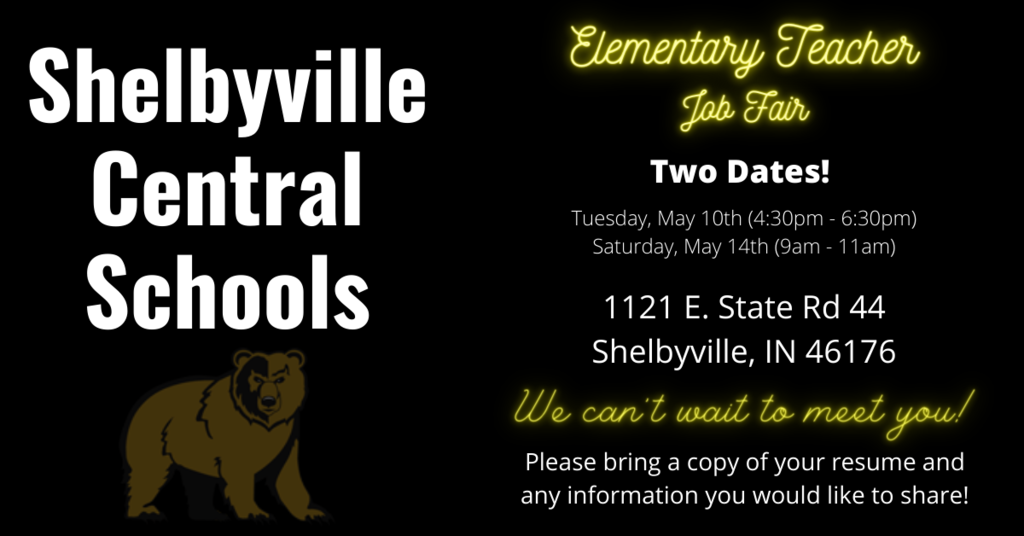 Congratulations to the Business Professionals of America (BPA) students who competed at state competition this past Sunday through Tuesday. ALL of the students did a great job of representing Shelbyville High School. The following students qualified to compete at the National Leadership Conference in Dallas, Texas from May 4th-May 8th. Gabbi Fox: 2nd in Advanced Desktop Publishing, 3rd in Graphic Design Promotion, Statesman Level Torch Awards, and Level 1 Student Certification Anesa Jakupi: 3rd in Administrative Support Research Individual, Statesman Level Torch Awards, and Level 1 Student Certification Ian Hall: 2nd in Digital Media Production Connor Zobel: 5th in Linux Operating System Fundamentals Honorable mentions goes to the Podcast Production Team of Ian Hall, Niven Herrington, and Connor Elliot for placing 4th.

The CDC has lifted the mask mandate on school buses effective immediately. Therefore masks are no longer required on Shelbyville Central Schools buses. Thank you.

The School Board for Shelbyville Central Schools met at noon today, and voted to end the mask mandate and COVID protocols related to contact tracing and close contacts effective immediately based on new guidance from the Indiana Department of Health. SCS will follow the quarantine protocols for people that test positive, monitor attendance daily and report any unusual spikes in absences to the Shelby County Health Department. We will continue to comply with the federal mask mandate on buses.